Biography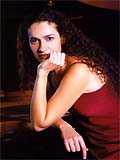 Born in Athens, Greece, pianist Jenia Manoussaki, studied at the national Music Conservatory in Athens under the Bulgarian Instructor L. Boyatzieva, and at the Munich Academy of Music under K. Schilde, G. Seidel and M. Hoehenrieder, graduating from both institutes with the highest distinction.
A scholarship from the Munich Academy of Music allowed her to pursue further studies under Jan Panenka at the Prague Academy of Music. In addition Jenia Manousaki has attended Master Classes with V. Sagkaintantsy, J. Rose, Duo Ganev, A. O. Vique, L. Hoffmann, J. Paratore and K. Eichhorn. She has taught at the Greek National Conservatory and the Phillipos Nakas Conservatory.
In 1997, Jenia Manousaki was awarded the 1st prize at the Berklee College International Music Competition.
The Greek-American composer Dana Richardson dedicated his Concerto for piano and orchestra to her. (2001)
She has appeared at the Gasteig Cultural Center and the Benediktbeuer Festival in Munich, the Megaron Athens Concert Hall, the Ancient Theatre of Epidaurus, as well as many other important Music Centers in New York, Paris, Prague, Kiev, Hamburg, Saarbruecken etc. and has performed with the Athens State Orchestra.
She has also recorded with the Greek Radio Symphony Orchestra.
In April 2002, she gave a piano recital at the Weill Recital Hall at Carnegie Hall.
Jenia Manoussaki is the founder and pianist of the Olympic Trio with the German Violinist Peter Clemente and the Czech cellist Jiří Bárta. The Olympic Trio has performed in New York (Onassis Foundation), Germany (Munich), at the Athens Megaron Concert Hall (Greece) and in numerous other concert halls in her country.
In March 2005 she appeared again at the Carnegie Hall (Isaak Stern Auditorium) with the New England Symphonic Orchestra.
Together with the Olympic Trio she got an entrance in the Weill Recital Hall at the Carnegie Hall in May 2006. At July 2006 she performed as soloist together with the Bohuslav Martinu Philhamony the piano concerto k.467 from Mozart.
Jenia Manoussaki teaches at the National Conservatory of Greece, and serves on the jury on the graduating examinations.